Cosmetic Dentistry – Greensboro, GA
Get a Confidence-Boosting Smile
Patients who are unhappy with the way their smile looks don't have to settle for hiding in the backgrounds of photos for years to come – instead, trust in the Lake Oconee Dentistry team for the cosmetic improvements you deserve! Dr. Patti Bradley, Dr. David Bradley, Dr. Andrea Feldman, and Dr. Shelly Pound can combine personalized aesthetic and restorative techniques to create lasting strength and beauty for teeth in need, erasing imperfections and giving you back your self-confidence. Contact our dental office today if you have any questions or concerns we can help you with, or if you're ready to schedule your first consultation to discuss your options for cosmetic dentistry in Greensboro, GA.
Why Choose Lake Oconee Dentistry for Cosmetic Dentistry?
Collaborative Team of Skilled Dentists
Outstanding Customer
Service
High-Quality Dental
Materials
Porcelain Veneers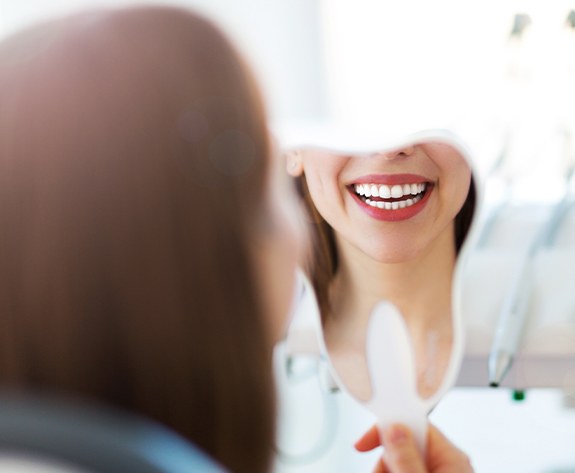 Porcelain veneers are an excellent, comprehensive cosmetic solution that can change your entire look all at once for the better. During an initial consultation, our team will review your personal smile goals, determining your preferences for the size, shape, and color of your brand-new teeth. In addition to tooth shape, veneers can correct the following issues as well:
Overly crooked/misaligned teeth
Minor gaps between teeth
Minor dental cracks/chips that need correction
Severe dental stains that can't be removed with teeth whitening
These dental restorations are precisely designed to fit right over the visible surfaces of your natural teeth, and their very thin nature makes them blend right in for a dazzling transformation that exceeds expectations. Plus, they can last for 10 to 15 years! Our doctors look forward to creating the smile of your dreams here in Greensboro, GA.
Metal-Free Dental Restorations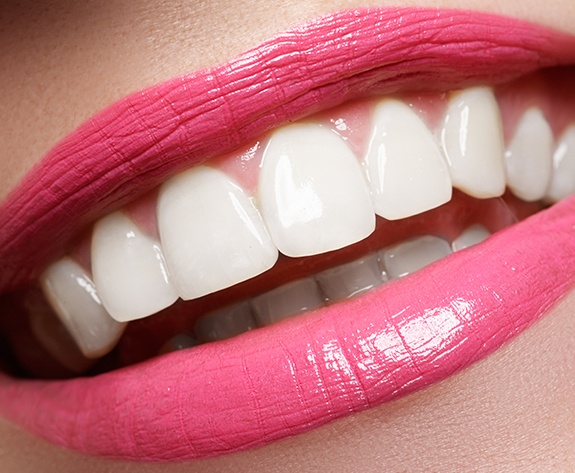 Do you have an outdated metal restoration that highlights a damaged tooth every time you smile or speak? We use high-quality, customizable materials like porcelain and ceramic to not only provide your dental structure with trusted protection, but to also keep your smile looking beautiful. Depending on your needs, we can craft your metal-free crown or bridge from a variety of different materials. To learn more about this process and what material would work best for you, contact our dental office!
Dental Bonding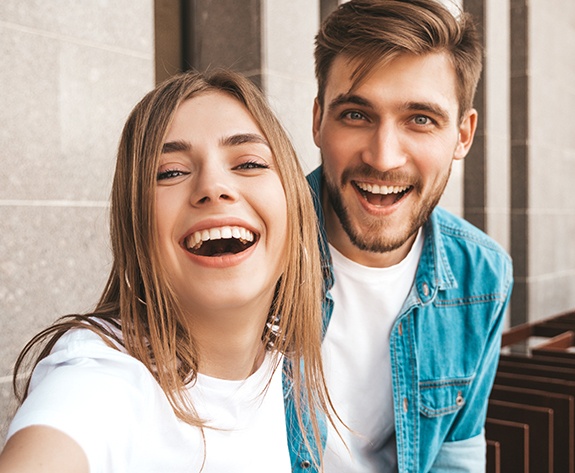 If you have small chips or cracks in a tooth, instead of having to invest in a more costly and invasive treatment like veneers, you can get direct bonding. Using the same composite resin that we use to fill cavities, we can sculpt the missing portion of your tooth. The resin will be color-matched to your natural enamel, so you likely won't even be able to tell what tooth was the one that had the chip in it!
Teeth Whitening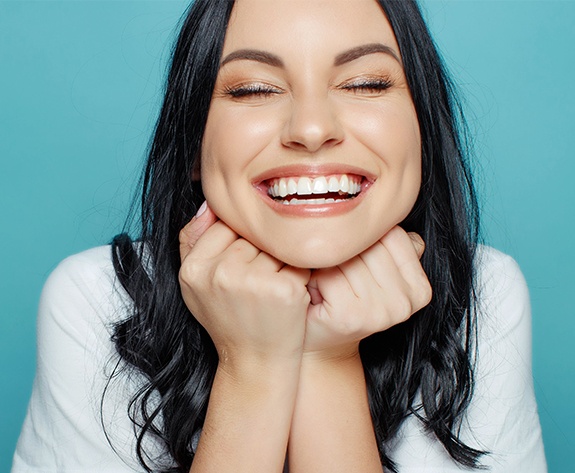 Over time, patients can accumulate dental discoloration/staining for a number of varied reasons, some of which are avoidable and some of which are not. They include:
A love of coffee, wine, or other staining foods
Poor oral hygiene
Certain medications
Old age
Genetics
At Lake Oconee Dentistry, our doctors are ready to help your teeth shine again with a variety of whitening solutions. Do you have a big event coming up and are in need of fast results? In-office teeth whitening can be completed in a single, convenient appointment, and you'll leave our dental office that same day with a smile that's several shades whiter. Alternatively, our take-home kits offer customized oral trays and high-grade whitening gel that can be used on a more flexible schedule in your own home, creating beautiful improvements over the span of a few weeks. During your initial appointment, we can help you determine which option is best for your personal goals and preferences.
Learn More About Teeth Whitening
BOTOX® & Dermal Fillers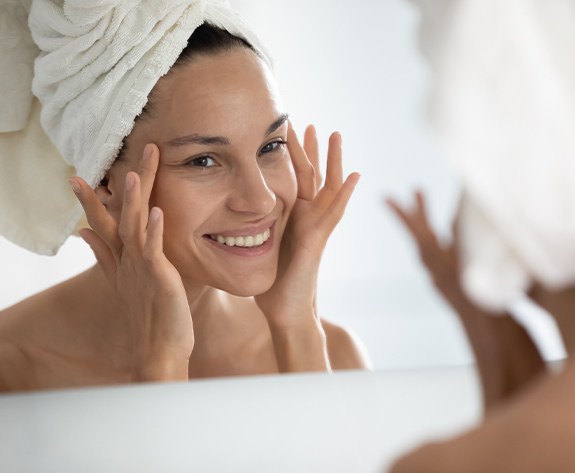 Even if your smile looks stellar, wrinkles and fine lines on the face around it can dampen the effect and leave you wishing for an overall makeover. At Lake Oconee Dentistry, we love being able to help our patients achieve the revitalizing results they have their heart set on – that's why we're proud to be able to incorporate BOTOX treatment and dermal fillers into your smile makeover plan! These substances can be utilized to relax facial muscles and plump up skin, resulting in a fresher, more youthful appearance that lasts for months at a time. In addition to the valuable cosmetic benefits, BOTOX can also help relieve pain caused by TMJ dysfunction and bruxism (teeth grinding).
Here at our Greensboro dental office, patients can feel fully safe undergoing BOTOX treatment. Dr. Patti Bradley, Dr. Andrea Feldman and Dr. Shelly Pound have received certification through the Georgia Board of General Dentistry and have completed board-approved post-graduate training through the American Academy of Facial Esthetics. With decades of dental experience, you can trust our doctors to create cosmetic improvements that leave you ready to smile.
Cosmetic Dentistry Frequently Asked Questions
After reading about all of the cosmetic dental services we offer, chances are you're excited to transform your smile and become more confident than ever before. However, it's perfectly natural to have a few questions before you begin that process. Don't worry – our dentists will gladly address any of your concerns during your appointment. In the meantime, we invite you to read through this list of cosmetic dentistry questions that we get asked the most often.
How long do cosmetic dentistry results last?
Because of the variety in the cosmetic procedures we offer, the results of each one come with a different average lifespan. In general, the better you take care of your teeth, the longer your results will last. While teeth whitening may only last a few months before you'll need a touch-up, tooth-colored fillings and veneers can last a decade or more with the right oral hygiene. BOTOX and dermal fillers can last for several months at a time, depending on your unique facial structure.
At your cosmetic consultation, our team will go over a projected timeline for your treatment and how you can maximize the lifespan of your results.
How much does cosmetic dentistry cost?
Numerous factors must be considered when determining the cost of cosmetic dentistry. Essentially, the amount you'll need to pay will depend on the specific goals you have for your smile and how you wish to accomplish them. For example, a quick and easy treatment like teeth whitening will generally cost less than a custom service like veneers. Again, we can provide you with a cost estimate during your consultation.
Does dental insurance cover cosmetic treatments?
Many cosmetic dental services are considered elective procedures, so dental insurance usually does not cover them. There may be an exception if your treatment overlaps into restorative dentistry, such as a tooth-colored filling to repair a decayed tooth. Most dental insurance companies are willing to cover a significant portion of the cost of restorative dental treatments.
At Lake Oconee Dentistry, we work with all major dental insurance providers, and we'll even conduct a complimentary benefits check at your first appointment. We'll happily file your claims on your behalf and explain your coverage to you.
For patients without dental insurance, we can help you set up a budget-friendly payment plan through CareCredit. Many of these plans come with very low or even zero interest for qualified patients!
Is cosmetic dentistry right for me?
If something bothers you about the smile you see in the mirror, you'd probably make a good candidate for cosmetic dentistry. Typically, the only caveat is that your teeth and gums are healthy. Once we have addressed any oral health issues, we can get started on helping you attain your dream smile.