Dental Crowns – Greensboro, GA
Beautifully Repair Broken or Weakened Teeth
Did you know that tooth enamel is the hardest material in your body? Unfortunately, it's not indestructible. Whether you take a sudden blow to the face, bite down too hard on a popcorn kernel, or are prone to cavities, there are a variety of ways you may end up with a damaged tooth. At Lake Oconee Dentistry, we can beautifully repair broken or weakened teeth with custom-made dental crowns in Greensboro, GA! These reliable restorations are an excellent solution for restoring the appearance and function of your tooth while saving it from extraction.
Why Choose Lake Oconee Dentistry for Dental Crowns?
Natural-Looking, High-Quality Materials
Voted Best Customer Service in the Area
Highly Credentialed Team of Dentists
What are Dental Crowns?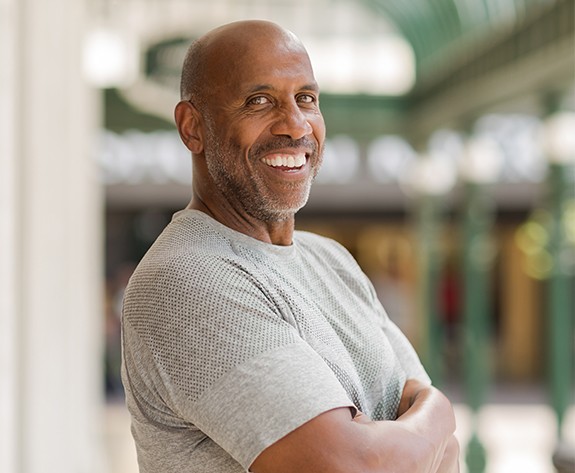 Dental crowns are tooth-shaped caps that are designed to fit snugly over the top of a tooth's natural structure. It encapsulates the entire visible portion of the tooth (which is called the crown), so we can redesign its appearance while fortifying its structure. This versatile treatment is an excellent solution for:
Teeth that have been weakened by decay or large fillings.
Broken, cracked, or fractured teeth.
Misshapen, small, or worn-down teeth.
Teeth with cosmetic imperfections, like stubborn enamel stains.
Teeth that have just been repaired with a root canal.
Replacing a missing tooth when paired with a dental implant.
We craft our dental crowns out of durable, beautiful dental porcelain. These 100% metal-free restorations offer the most lifelike results, so once your dental crown is placed, it will be practically indistinguishable from the rest of your smile.
How are Dental Crowns Placed?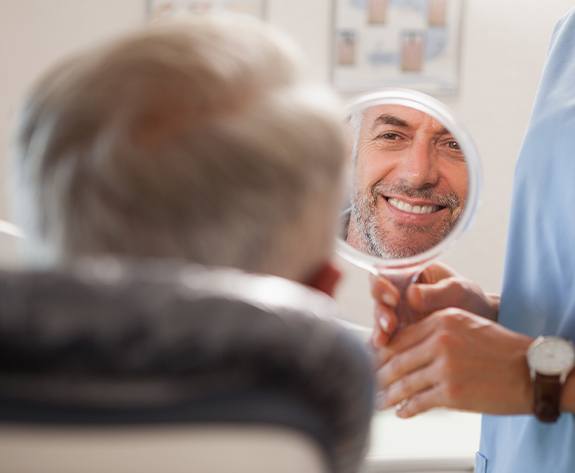 Typically, it only takes two appointments to repair a tooth with a dental crown. After ensuring you're as comfortable as possible by numbing the area with a local anesthetic, we'll prepare your tooth. Next, we'll remove all the decayed or damaged tissues and clean the area. Then, to ensure the dental crown has enough room to fit in with the rest of your teeth, we may need to prepare the tooth by removing some enamel. At the end of your first appointment, we'll take impressions of your tooth and cover it with a temporary dental crown.
It may take a week or two for your permanent dental crown to be created, so in the meantime, your temporary crown will keep your tooth safe from further damage or decay. Before you know it, you'll be returning to our dental office, where we'll remove your temporary restoration and replace it with your beautiful, permanent dental crown! Once we ensure your bite is comfortable, you'll be ready to enjoy your happy, healthy, and newly repaired set of pearly whites!
The Benefits of Dental Crowns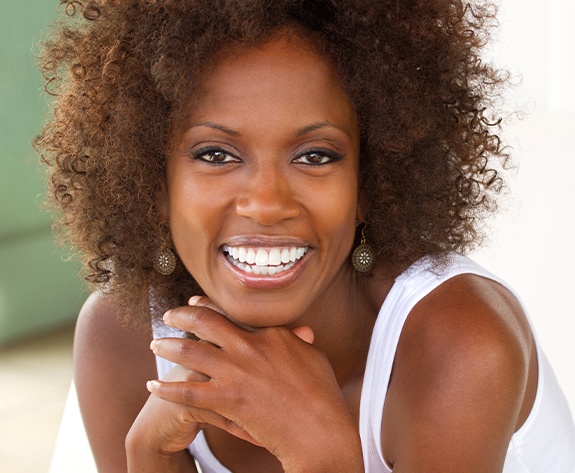 Dental crowns are an excellent choice for addressing a variety of dental issues, and it's easy to see why! They offer a wide range of benefits, including:
Preventing dental infections: Sealing the entirety of a vulnerable tooth protects it from harmful bacteria, thus lowering your risk of a dental infection.
Easy to care for: All you need to do to keep your dental crown beautiful and in place is to practice great oral hygiene and break bad habits like chewing on hard objects.
Long-lasting results: As long as you take care of it and address issues like teeth grinding and chewing on hard objects, you can expect your dental crown to last 10-15 years or more!