Dental Implants – Greensboro, GA
A Whole New Way to Rebuild Your Smile
When one or more teeth have been lost, it can lead to devastating consequences for the patient's oral function, overall health, and quality of life. Thankfully, dental implants are available as the ideal reconstructive solution, recreating dental structure that looks and feels virtually indistinguishable from the genuine article. At Lake Oconee Dentistry, Dr. Patti Bradley, Dr. David Bradley, Dr. Andrea Feldman, and Dr. Shelly Pound can take you through every phase of the process for tooth replacement, using dental implants in Greensboro, GA. We can ensure a smooth and successful process with a team you already know and trust – no outside specialists required. Contact our office today to get started!
Why Choose Lake Oconee Dentistry for Dental Implants?
Start-to-Finish Dental Implant Care in One Location
Insurance-Friendly Dental Practice
Cone Beam/CT Scanning for Precise, Safe Treatment
What Are Dental Implants?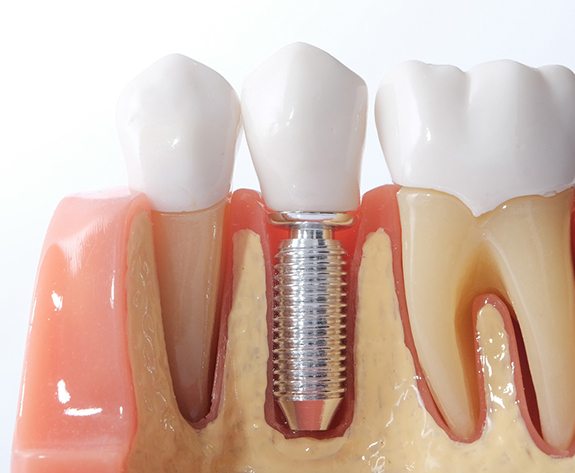 While traditional tooth replacement options are designed to only replace the crown (the white portion that makes up your smile) of the tooth, there's another, equally important component that typically ends up ignored – the root. The root is embedded in the patient's jaw, and its presence stimulates the jawbone. Even if the patient's visible smile is restored, the permanent loss of a tooth root can result in jawbone deterioration, reduced oral health, and even a "hunched" facial appearance over time.
Dental implants are highly successful because they're the only treatment option that fully replicates the entire structure of a natural tooth – root and all! Because of this, patients can enjoy the valuable health benefits, stunning aesthetic improvements, solid oral function, and long-lasting durability they deserve.
The Dental Implant Process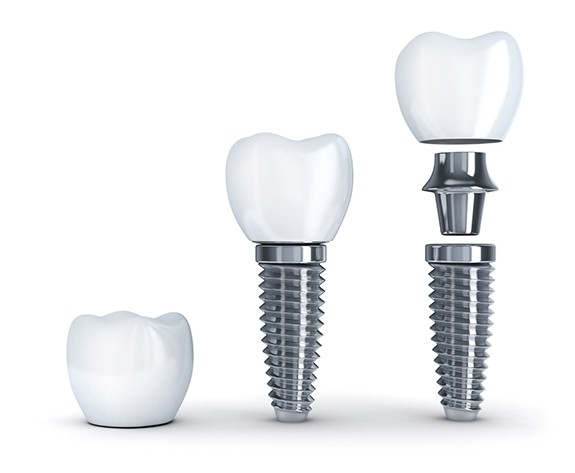 Before any treatment can begin, our doctors will invite you in for a dental implant consultation that reviews your oral health history and allows us to determine the best course of action for your unique smile. Then, the first step of the procedure is the surgical placement of one or more implants into the jawbone; this will be accomplished with our 3D cone beam scanner, which helps reveal the ideal location for your new implant(s) and ensures an exceptional level of accuracy during the procedure. Dr. Patti Bradley and Dr. Shelly Pound are highly skilled in the placement of dental implants. In fact, Dr. Patti Bradley currently holds Mastership status with the International Dental Implant Association!
Once the implants are in place, the body's natural inclinations take over. Through a process known as osseointegration, your jawbone will gradually fuse with the implants. This creates a solid foundation for the final step of the implant process – the creation and placement of long-lasting, personalized restorations.
Benefits of Dental Implants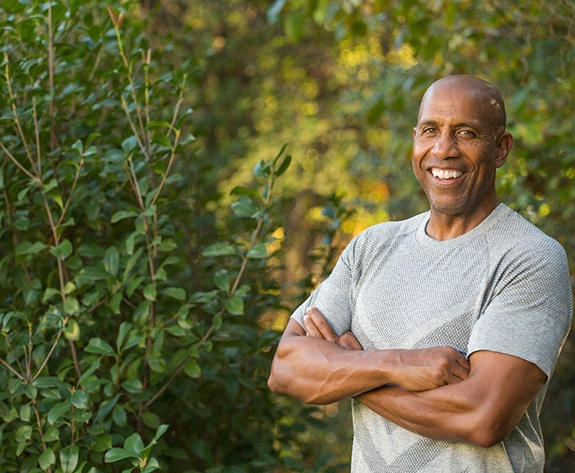 Dental implants are such a highly recommended tooth replacement treatment because they offer a variety of benefits that distinguish them from traditional prosthetics. Some of the advantages you'll be able to enjoy with dental implants include:
Preservation of facial structure
Prevent jawbone deterioration
No slipping or shifting restorations
Easy maintenance
Ability to last 35+ years with routine care
Enhance eating and speaking abilities
Who Dental Implants Can Help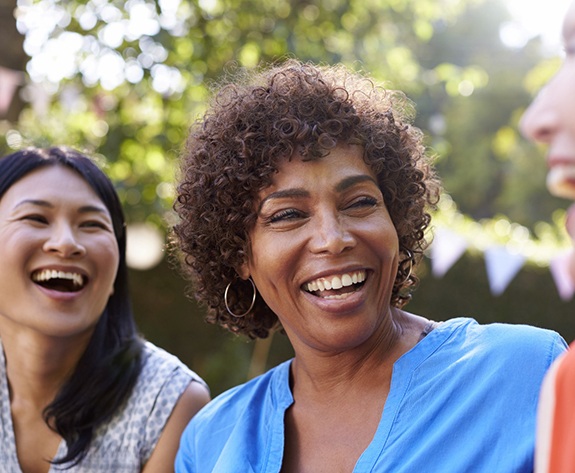 There are multiple options for dental implant treatment, and our Greensboro team's recommendation will depend on the extent of the patient's tooth loss (how many implants need to be restored), as well as the available budget and time commitment. They include:
Missing One Tooth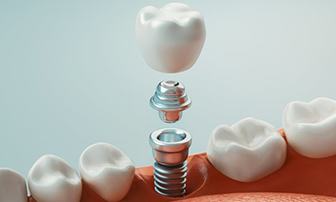 For a single missing tooth, we can place one dental implant in the mouth below the gums. This will restore the root structure of the tooth. We can then attach a customized dental crown to it to keep your surrounding teeth from drifting out of place and fill the gap.
Missing Multiple Teeth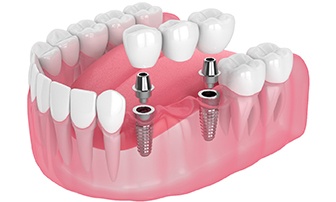 Instead of needing to alter your surrounding healthy teeth, our team can secure a customized dental bridge to two implants located on either side of the gap in your smile.
Missing All Teeth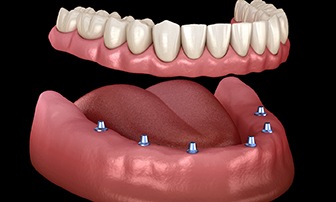 To secure a complete denture to your mouth, we can place anywhere from four to eight dental implants that we strategically place along your arch. This will eliminate any slipping or shifting that may occur when you eat or speak, which is common with traditional dentures.
Understanding the Cost of Dental Implants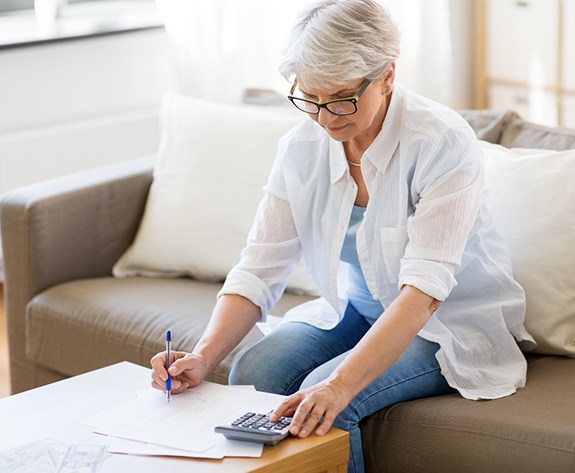 At first, you may be a bit apprehensive to replace your missing teeth with dental implants. After all, they can cost more than bridges or dentures. However, every patient's cost is different, and your insurance may decide to cover certain portions of the procedure, such as the restoration or any necessary preliminary treatments. We can go over a more detailed cost estimate with you at your dental implant consultation and determine a way for you to rebuild your smile without breaking the bank.
Types of Dental Implants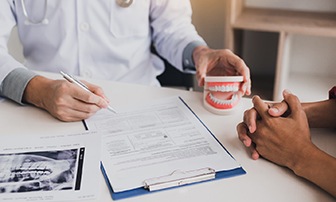 One of the primary factors in determining the cost of your implant treatment is how many implants you need to rebuild your smile. For a single missing tooth, we can place just one titanium post and top it with a lifelike dental crown. If you're missing multiple teeth in a row, you can receive an implant-supported bridge, which doesn't alter your surrounding teeth like a traditional bridge does. Lastly, for an entire missing arch, we can place anywhere from four to eight implants in your jaw to support a full denture, which can be either fixed or removable.
What Are the Stages of Dental Implant Treatment?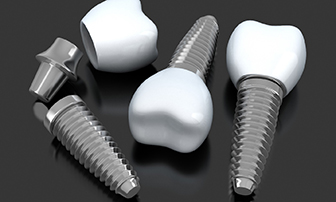 We'll walk you through the different stages in greater detail at your consultation. Because everything takes place in separate appointments, you can break your treatment cost up into manageable chunks. Some of the steps of your treatment might include:
Preparatory procedures such as bone grafting or periodontal therapy
Surgical placement of implants directly in the jawbone
Osseointegration, which is the months-long process during which your implants fuse to your jawbone
Placement of abutments, which are small metal connector pieces
Placement of restorations atop your abutments, whether that be a crown, bridge, or denture
Are Dental Implants Worth the Investment?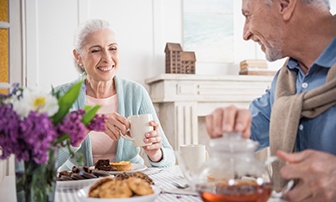 Absolutely! Dental implants offer a multitude of benefits to your everyday life that make them well worth the investment. While there are other tooth replacement options available, like dentures and dental bridges, none of them offer the same longevity, strength, and stability that implants do. Additionally, implants are incredibly easy to maintain; all you have to do is regularly brush, floss, and attend checkups. Because implants replace the entire tooth structure, they'll look and feel as natural as the pearly whites you were born with.
Does My Dental Insurance Cover Dental Implants?
Although most dental insurance companies don't cover the full cost of dental implants, they may provide coverage for other elements of the treatment, such as periodontal therapy, bone grafting, or your restoration. It's always worth your while to check your individual policy to see what they cover. If you need help getting in touch with your insurance carrier, our team is more than happy to help.
Dental Implant FAQs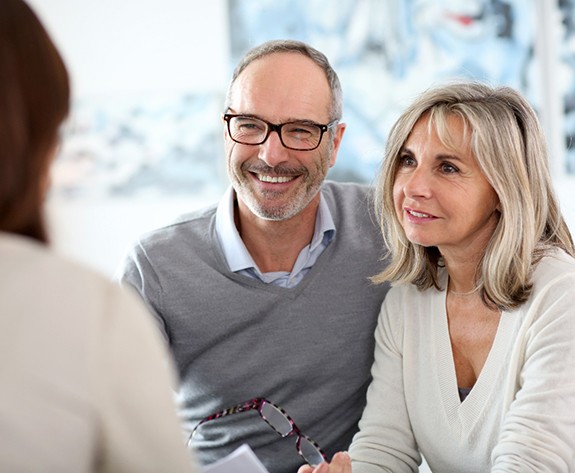 At Lake Oconee Dentistry, we often recommend dental implants after tooth loss because we know they're the closest thing to natural teeth. Our experienced implant dentists, Dr. Patti Bradley and Dr. Shelly Pound, handle the entire procedure from start to finish and are always happy to explain the process so you know what to expect. Below, you'll find answers to the FAQs we hear most often, but feel free to contact us anytime with other questions as they arise.
Are dental implants safe?
Dental implants are absolutely safe. They're made from the same biocompatible, surgical-grade titanium that's used in knee and hip replacements. They've also been used for several decades to successfully restore the smiles of countless patients. In fact, it's estimated that an astounding five million dental implants are placed every year, so you can rest assured that they're safely used for a wide variety of people.
How successful are dental implants?
One of the major reasons we like to recommend dental implants is their high success rate, which is over 95% in non-smokers. However, since it's only 85% in smokers, we recommend quitting tobacco before having the procedure done.
Does it hurt to get dental implants?
Not nearly as much as you might expect. In terms of discomfort, many people compare implant surgery to having a tooth extracted. And since Dr. Patti Bradley and Dr. Shelly Pound always starts by making sure you're completely numb beforehand, you'll only feel pressure, not pain. In addition, we also offer sedation options to make the procedure comfortable for everyone, even anxious or fearful patients.
What is a bone graft, and will I need one before getting dental implants?
A healthy and dense jawbone is necessary to support both natural teeth and dental implants. However, as soon as a tooth is lost, the bone begins to deteriorate. If it's been a long time since you lost your teeth, you may not have enough jawbone to support implants.
To evaluate the bone density in your jaws, we'll take a detailed, three-dimensional image with our cone beam scanner before making a recommendation. If we find that your jawbone is too thin or too weak, we may recommend a bone graft. This procedure adds bone tissue to your jaw to strengthen and fortify it, enabling it to support implants in the future.
How do I take care of my dental implants?
Fortunately, maintaining your dental implants isn't complicated and is actually a lot like taking care of natural teeth. Use the following tips to help ensure the long-term success of your new smile:
Schedule regular checkups – It's important to monitor your implants regularly so we can catch and treat any potential problems before they lead to failure.
Practice good oral hygiene - Your implants can't get cavities, but they can develop a type of gum disease. Healthy gum tissue is important to provide strength and stability, so be sure to keep the gums clean by brushing at least twice a day and flossing once.
Wear a nightguard, if necessary – The chronic forces from nighttime clenching and grinding can damage your implant over time. Wearing a custom-made nightguard will protect both your natural teeth and dental implants.