Porcelain Veneers – Greensboro, GA
Conceal Imperfections to Reveal a Bright, Symmetrical Smile
Porcelain veneers are a wonderful way to improve the appearance of the teeth that show when you smile. These thin restorations can be placed on the front surface of the six teeth located in the "smile zone" to enhance their size, shape, and overall look. Keep reading to learn more about porcelain veneers from your Greensboro, GA cosmetic dentists, Dr. Patti Bradley, Dr. David Bradley, Dr. Andrea Feldman, and Dr. Shelly Pound!
Why Choose Lake Oconee Dentistry for Porcelain Veneers?
Customized, Stain-Resistant Porcelain Veneers
Experienced, Collaborative Team of Dentists
Outstanding Customer
Service
What are Porcelain Veneers?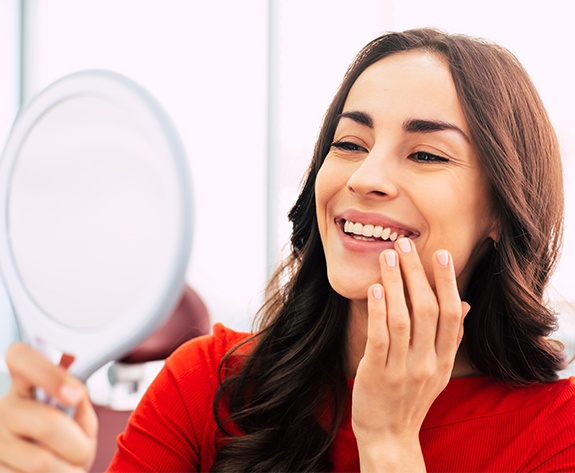 Currently one of the most popular cosmetic treatments available, porcelain veneers are thin coverings made from dental porcelain. This is a material that looks, feels, and acts just like your natural tooth enamel. This material is sturdy enough to withstand the things your teeth encounter on a daily basis -- and because it is non-porous, it will not absorb the stains from what you eat and drink. That means you can think of veneers sort of like a permanent teeth whitening treatment as well!
What Can Porcelain Veneers Fix?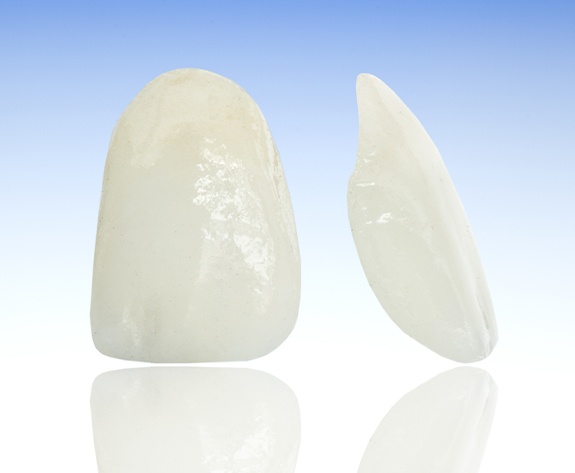 Porcelain veneers can be used to mask a number of cosmetic issues affecting otherwise healthy teeth. For areas that have decayed or sustained structural damage, a stronger restorative option may be preferred. Our team will evaluate your teeth and help you determine which option may be best for you.
Some of the issues that porcelain veneers can improve include:
Chipped or uneven teeth
Severely discolored or stained teeth
Oddly shaped teeth, like pointed or too short
Teeth with a pitted or grooved surface
Slightly gapped or off-center teeth
And other cosmetic imperfections
How are Porcelain Veneers Placed?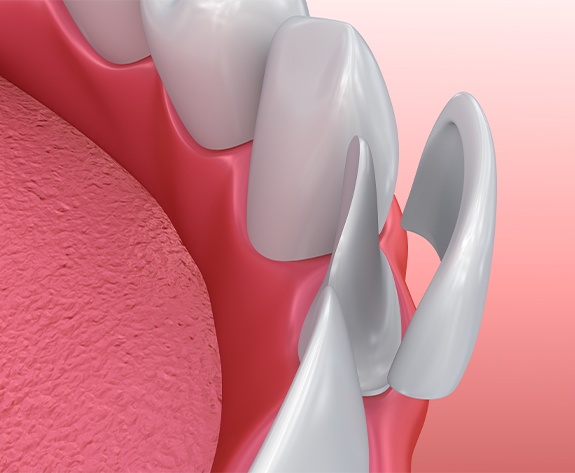 Porcelain veneers are placed over the course of two visits to your dentist's office. During the first appointment, the teeth are prepared. A slight portion of tooth enamel is removed from the surface of each tooth that will receive a veneer and an impression (or mold) is taken of the teeth. Temporary veneers will cover up the prepared teeth in the time between visits. Then, each veneer is created according to your specific treatment plan. After they are ready, you return to our dental office for the final placement, when the veneers are bonded onto the surface of the teeth using a special bonding material. You'll love the result!
Good Candidates for Veneers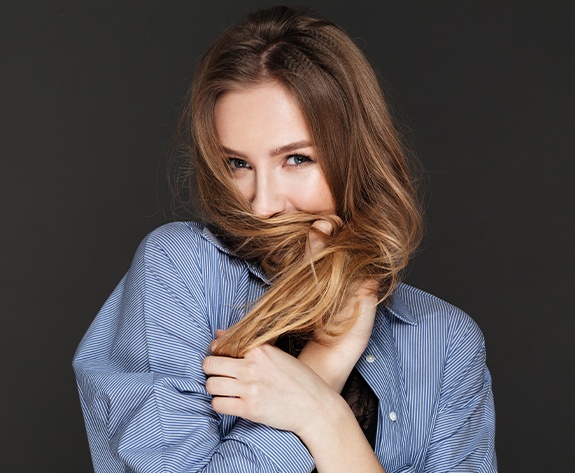 Most adults who are unhappy with the appearance of their healthy but cosmetically imperfect teeth are eligible for dental veneers. The only way to find out whether or not you are, too, is to schedule an appointment with our dental office.
Once you have received veneers, make sure you continue to brush and floss regularly and visit your dentist for routine checkups and cleanings to keep them shining bright. Veneers can last for up to 20 years with proper care and maintenance!
Let's Get Started on Your Smile Transformation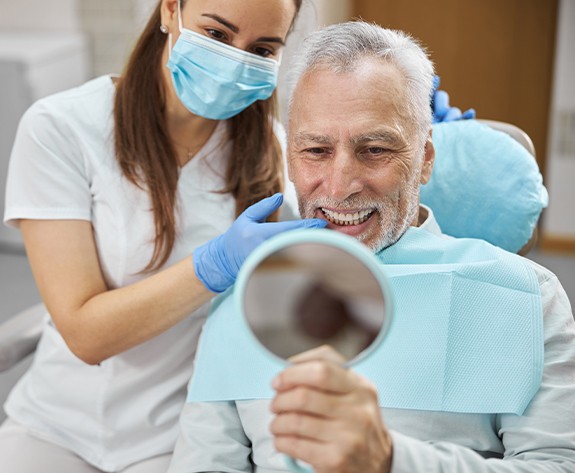 Are you interested in porcelain veneers in Greensboro? This is a wonderful treatment for many patients. To learn more about veneers or to find out whether or not you are a candidate, go ahead and get in touch with our dental office today. We can't wait to help you love your smile!
Porcelain Veneers FAQs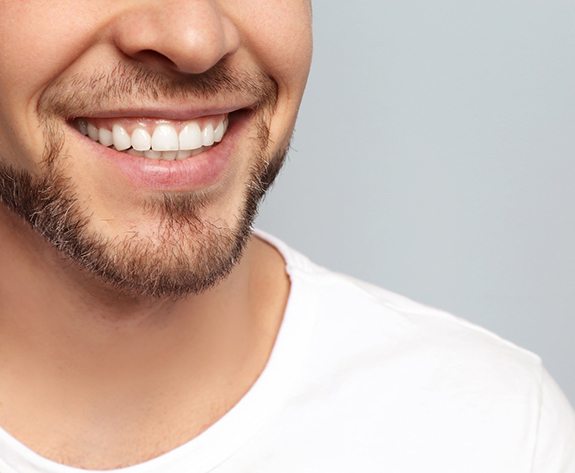 Prior to starting veneer treatment, you may have questions that need answers before you make the decision to move forward. Although we certainly welcome you to ask us during your consultation, we have taken the opportunity to respond to some of the most common questions about veneers in Lake Oconee for you. Please take a look at them, and feel free to schedule an appointment to discuss your treatment in greater detail.
Do Veneers Feel Like Real Teeth?
The veneers are designed and customized to your mouth specifically. Your veneers are also made of a smooth ceramic material, which is gentle on soft tissues. We only remove enough enamel to make room for the veneers, which means you shouldn't necessarily feel very different from before. Although the temporary veneers may not feel completely natural, most patients report that the final products feel comfortable and realistic. In fact, many forget they even have the veneers!
Is There Anything I Can't Eat with Veneers?
While you have your temporary veneers on your teeth, it may be a good idea to avoid biting down on hard foods like hard candy, raw fruits and vegetables, nuts, and the like. You should also steer clear from excessively sticky foods. However, once your custom veneers are properly adhered, you are free to eat normally again. If you want your veneers to stay in good condition as long as possible, you may want to consider being careful when you bite into hard foods and limiting your consumption of dark drinks like coffee, wine, or certain soda.
Can You Whiten Veneers?
Although eventually veneers can stain and become darker, the color of veneers cannot be brightened once they are fabricated in the lab. In other words, teeth whitening treatment is ineffective on veneers. If you would like to whiten your teeth as well as get veneers in your overall cosmetic plan, we usually suggest doing teeth whitening first. That way we match the veneer with your new, lighter shade.
How Should You Take Care of Your Veneers?
When you maintain your veneers properly every day, they can continue to look great for over a decade; fortunately, taking care of your veneers is exactly the same as taking care of your teeth. Brushing and flossing daily keeps them clean and plaque buildup to a minimum. Then, you also need to come in for routine checkups and cleanings so we can make sure they stay in excellent condition. To extend their lifespan, you can also reduce how much dark foods and drinks you have or rinse your mouth with water after you have them.