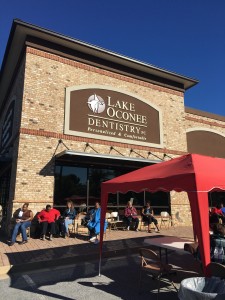 Each year, a line begins to form the night before the actual event.
Men and women bundled in coats, and loaded down with camping chairs, blankets and sleeping bags, crowd the sidewalk in front of Lake Oconee Dentistry. By the time team members begin arriving at 4:30 a.m. to set up for the day, there's typically a crowd of at least 50 people waiting for them.
It's a sight that is both heartbreaking and heartwarming.
"Now, more than ever, there are people in need of dental services who have no means to afford them — whether they are unemployed or experiencing some other serious financial difficulty," says Dr. Patti Bradley. "While there are a lot of programs available for those in need of medical care, programs for those needing dentistry don't really exist."
That's why Lake Oconee Dentistry began hosting Dentistry from the Heart, a free day of dental care, in 2010.
Dentistry from the Heart is a registered national non-profit with a simple mission — making people smile.  Founded in 2001 by Dr. Vincent Monticciolo, Dentistry from the Heart provides free extractions, fillings and cleanings for those in need. Each year, dental offices across the country host Dentistry from the Heart events — helping thousands of patients and providing millions of dollars in free care.
This is the sixth year Lake Oconee Dentistry has hosted Dentistry from the Heart. On September 30th, Drs. David and Patti Bradley were joined by their associate, Dr. Shelly Pound, as well as other Lake Oconee Dentistry hygienists, dental assistants and team members. Dr. David Miller, and his team from Lake Oconee Oral Surgery Center, once again donated his time and expertise to assist with surgical extractions. Community volunteers, as well as volunteers from Lakeside Church, were also on hand to assist.
Kathy had heard about the event on Facebook and drove 50 miles because she had a painful cavity.
"This is such a blessing. You can definitely tell it comes from the heart," she said. "It's going to help me feel better and it will help me have a little more confidence too."
Volunteers saw 120 patients at this year's event and provided 67 extractions, 33 fillings and 41 cleanings, totaling nearly $30,000 in free care.  In total, Lake Oconee Dentistry and Lake Oconee Oral Surgery have provided nearly $250,000 in free dentistry to the lake area community through Dentistry from the Heart events over the years.
"We've all been in situations where we've needed a helping hand," says Dr. David Bradley. "Dentistry from the Heart has become our way to help those who have no means of affording much-needed care. We help people get out of pain – and they leave smiling. It's something we look forward to every year."