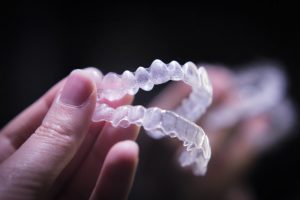 If you're trying to fix alignment issues or crowding in your teeth, you may be familiar with the innovative orthodontic treatment known as Invisalign. This series of custom-made clear aligners can offer results without all the downsides associated with traditional metal braces. Since this treatment is so different, it's typical for patients to have many questions before undergoing Invisalign. That's why your dentist in Greensboro is ready to keep you informed as you peruse your options.
Patients usually ask how long Invisalign treatment takes or what they need to do after treatment ends. To learn how Invisalign differs from traditional braces and what you'll need to do to ensure effective results, keep reading.
Will I Need to Wear Brackets During Treatment?
Unlike metal braces, Invisalign clear aligners don't use any metal hardware whatsoever to shift your teeth. That means no brackets, wires, or bands of any kind are installed in the mouth during treatment. Instead, you'll wear acrylic, custom-made trays designed to fit your teeth and stay in your mouth throughout the day.
Because Invisalign's clear aligners are removable, you can eat the foods you want and won't have to change your brushing technique. Every two weeks or so, you'll swap your current trays for the next set in your treatment. You'll also visit your dentist in Greensboro every 4 to 6 weeks, so they can measure your progress.
How Do I Clean My Clear Aligners?
When cleaning your clear aligners, use a clear, antibacterial, soft soap and cold water to remove saliva and plaque. This will keep your aligners clear and free of bacteria. You should also have a dedicated brush to gently scrub your clear aligners, but don't brush too hard, as this can scratch them. Never use warm or hot water on your aligners as this can cause them to change shape and dramatically affect your results.
How Long Does Treatment Last?
Invisalign treatment for adults takes on average 12 months to complete. In some cases, treatment can take 18 months depending on the how often you wear your aligners and how severe your case is. To make the treatment as quick as possible, you'll need to wear your aligners between 20 and 22 hours a day for effective results. Your dentist will provide advice on the best ways to achieve this.
Do I Wear Retainers After Treatment?
Like metal braces, you'll also be given a retainer to make sure you keep your smile and prevent your teeth from shifting back to their crooked position. If you've had braces in the past and forgotten to wear your dentist-provided retainer afterwards, it may be exactly the reason you're pursuing Invisalign treatment in the first place. However, unlike your clear aligners, you won't wear it nearly as much. At first, you'll wear it during the day and while sleeping, but eventually you'll switch to only wearing them at night.
Still have questions on Invisalign? Schedule an appointment with your dentist in Greensboro today!
About the Author
Dr. David Bradley has almost two decades of experience practicing general dentistry. He has over 1,300 hours of post-graduated education, including education on short-term orthodontics. To learn more about his orthodontic treatments, various accolades, and practice, you contact him at (706) 453-1333 or visit his website.