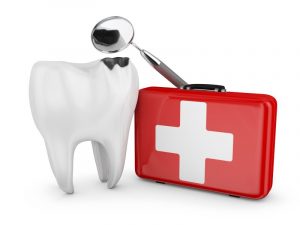 The word "emergency" is one of the scariest in the English language. It usually means something has gone horribly wrong. A dental emergency is typically not as terrifying as one in other parts of your body. However, because it's still an emergency, it needs urgent attention. Let's talk about what you need to do in several common dental emergencies.
Knocked-Out Tooth
The first thing you should do is call your emergency dentist. Tell them you have lost a tooth, and they will do everything they can do see you as soon as possible. If your tooth can get reattached within the hour, there's a high chance that it will take.
If you can't get to a dentist right away, there is something you can do. Pick the tooth up by the crown, or the part that you chew with. Don't touch the pointy root at all if you can help it. Gently try and place the tooth back in the socket. Use a mirror or the help of a friend to make sure it's facing the right way.
Broken, Cracked, or Chipped Tooth
Call your dentist. Give as many details about your tooth as you can to save you time once you reach the office. You will most likely only need a filling or a crown to restore the tooth and protect it in the future.
Toothache
A toothache could be indicative of many things, and your dentist is the only one who can tell you the exact cause of your problem. Take an over-the-counter anti-inflammatory pain medication like ibuprofen to both cut down on pain and prevent swelling. If your discomfort doesn't subside after three days, call your dentist.
Bleeding Mouth
As often as we joke about it, bleeding while flossing is not normal. It's most likely a sign of untreated gum disease. If you see blood in your saliva, that could actually be a symptom of an advanced stage of oral cancer. See your dentist, and he or she can determine what the root cause of your bleeding is. If you avoid the dentist, your problem could get worse and lead to tooth loss!
Swollen Face
If your face is swollen, it could mean an infection in a tooth, bone, or gum tissue. Don't wait; call your dentist right away to get this problem treated. Make sure to stay upright and don't lie down flat, not even when you sleep. Drink plenty of water, as getting dehydrated while you have an infection could make complications worse.
The most important takeaway is to call your emergency dentist if you ever suspect something is wrong with your mouth. Even if there ends up being no problem, it's much better to be safe than sorry.
About the Author
Dr. David Bradley has earned a Mastership Award with the American Academy of General Dentistry, an honor that only 2 percent of general dentists in the U.S. and Canada have achieved. He is an alumnus of the Dawson Center for the Advancement of Dentistry and has more than two decades of experience in the practice of general dentistry. If you are having a dental emergency near Greensboro, GA, Dr. Bradley can be reached at his website or by calling (706)-453-1333.