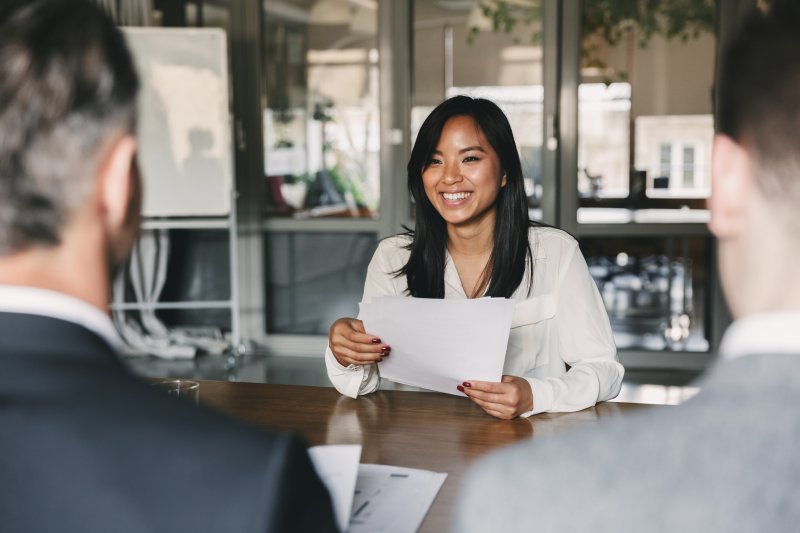 A healthy set of teeth can have amazing benefits for your physical and mental health, but did you know it could also boost your chances of career success? Sure, having an impressive resume, wonderful references, and a sleek outfit are all important for a successful job interview. But recent studies show that a great smile is just as effective in helping you seal the deal.
If your grin isn't up to standard, you can take action to improve it. Read along to learn how your pearly whites can impact your career and how cosmetic dentistry can accelerate your journey up the ladder.
What Does Your Smile Say to Employers?
First impressions are most important when it comes to a job interview. In just seven seconds, you will have made a lasting impression on your employer solely based on your appearance. A smile is the most memorable trait after first meeting someone, so making sure it's in tip-top shape can greatly benefit you.
Researchers found that people with a "more attractive" grin were perceived to be better candidates, even if they had less experience. Studies also show that employers often associated positive attributes, like happiness, intelligence, and health, with individuals who had straight teeth. Even simply having a whiter smile can make a difference! It makes people look younger as well as increases their chances of landing a job and being offered a higher salary.
How Can You Improve Your Smile?
If you feel like your teeth are holding you back, you may want to consider cosmetic dentistry. Here are four dental treatment options that can improve your smile:
Teeth whitening. In-office and at-home whitening treatments are both effective, convenient solutions for correcting stained or discolored teeth. Results are fast, so you can enjoy a whiter smile that's several shades lighter in no time!
Invisalign. These clear braces are a great solution for adults who want straighter teeth without the hassle of traditional metal braces. Since they're slim and discreet, you can maintain a professional image while undergoing treatment. No one will even notice!
Porcelain Veneers. Searching for a quick cosmetic fix? Veneers can brighten, straighten, and conceal damaged teeth to create your dream look in as little as two weeks.
Dental Bonding. This minimally invasive procedure can correct chips, cracks, gaps, discoloration, and other minor flaws in just a single visit. You can walk out the same day with a gorgeous new set of pearly whites!
Hunting for a new job can be stressful. Why not invest in your smile to improve your chances of success? Consult with your cosmetic dentist to find a treatment option that will help you nail your upcoming interview.
About the Practice
Lake Oconee Dentistry is committed to providing patient-centered, honest dentistry. We offer world-class, comfortable, and convenient services every patient can be happy about while maintaining the highest standard of care in the dental field. If you're unhappy with your smile, we can help you achieve your dream look. We have a collaborative team of skilled dentists, outstanding customer service, and high-quality dental materials, so you can feel confident in your decision to pursue cosmetic treatment with us. Ready to boost your chances of success with a dazzling grin? Schedule a consultation via our website or call (706) 453-1333.