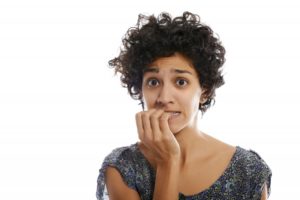 Are you feeling anxious or stress because of the current COVID-19 pandemic? This completely natural reaction can help us stay alert and cautious during uncertain times. However, unmanaged stress can negatively influence several aspects of your life, including your oral health! Your Greensboro dentist reveals five stress-related bad habits to look out for and what you can do to keep your smile safe.
1.) Brushing Too Hard
It's easy to accidentally begin to brush your teeth with too much force if you're feeling anxious. Over-aggressive toothbrushing scratches away your enamel and can eventually lead to weakened, sensitive teeth that are prone to cavities.
To protect your teeth, only use soft-bristled toothbrushes. To keep yourself from brushing too hard, try holding your toothbrush with your fingertips instead of clenching it in your fist.
2.) Nightly Teeth Grinding
For some people, stress can manifest as grinding their teeth or clenching their jaw as they sleep, which is a condition known as bruxism. A few prominent tell-tale signs of bruxism are constant headaches, waking up with jaw soreness, and a dull, nagging ache in your teeth.
To relax your jaw before bed, try eating a crunchy vegetable or placing a warm compress on your cheek. When quarantine orders are lifted, consider seeing your dentist for a diagnosis and a custom nightguard.
3.) Chewing on Hard Objects
Do you chew on objects when you're stressed or anxious? Gnawing on hard items like pen caps, ice, and your fingernails wears down your teeth and increases their risk of breaking suddenly.
To satiate your need to chew, try eating a piece of sugarless gum instead.
4.) Mindlessly Munching
You may be more prone to stress-eating as you pass your time in quarantine. Not only is this habit bad for your waistline, but it increases your chances of cavities as well. Even eating healthy snacks like pieces of fruit throughout the day is enough to fuel the cavity-causing bacteria in your mouth.
Try to limit your eating to mealtimes and follow any extra snacking with plenty of water.
5.) Slacking Off on Your Dental Routine
Your daily life probably looks much different than it did in the beginning of the year. However, it's essential to continue practicing regular at-home oral hygiene amidst all the changes. Not only will this help you prevent oral health issues like tooth decay and gum disease, but health experts say that maintaining a routine can help retain a sense of normalcy. Even a daily habit as simple as brushing your teeth every morning and night can go a long way in keeping your smile clean and your mind a little more at ease.
For additional support, try stress-management techniques from the Centers of Disease Control and Prevention. If you avoid these stress-related bad habits and practice excellent oral hygiene, you can look forward to leaving quarantine with a happy, healthy smile!
About the Practice
At Lake Oconee Dentistry in Greensboro, GA, our number one priority has always been the health and safety of our patients, staff, and community. To do our part in flattening the COVID-19 curve and lessening the strain on our local hospitals, we are currently only seeing dental emergencies and postponing all other appointments. We look forward to helping you care for your smile once quarantine orders have lifted. If you have any questions or concerns, please don't hesitate to contact us via our website or at (706) 453-1333.