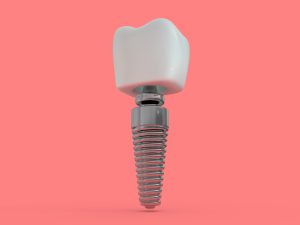 If you have a missing tooth and have been looking for a solution online, chances are you've found plenty of dentists and health sites recommending dental implants. It's easy to see why: a durable, long-lasting, natural-looking replacement that lets you eat and talk like normal, and with none of the slipping of traditional dentures sounds great! But don't rush to schedule an appointment just yet; for some patients, there may be complications that need to be considered first. Here are 3 things to think about before deciding if dental implants are right for you.
Can My Jaw Support Dental Implants?
One of the advantages of dental implants is that they help prevent bone loss in your jaw. This is because an implant is fused into the jawbone, which allows it to provide stimulation similar to natural teeth that keeps the bone strong. Unfortunately, if bone loss has already progressed too far, there won't be enough for the implant to fuse to, which means there's a higher chance of failure. The longer you've been missing a tooth, the more the bone will have shrunk; your dentist can use an X-ray to check and see if there's still enough bone to support an implant.
Is My Mouth Healthy Enough for a Dental Implant?
It's important for your gums to be healthy; if you have a form of gum disease, an infection could form around the implant. Other health conditions such as uncontrolled diabetes can slow the body's ability to heal, which can prevent the process that fuses the implant into the bone (osseointegration) from working. You should speak with your dentist about any health conditions that could cause a problem.
In particular, smoking can easily lead to implant failure, as it disrupts the healing process in the mouth and introduces chemicals that can cause infections. Being a smoker won't necessarily disqualify you from the procedure, but you'll most likely need to stop smoking before and after the implant is inserted.
What Happens After I Get a Dental Implant?
Healing takes time, and for some people the recovery process will take longer than others. Usually, it takes 7 to 10 days, but it depends on how many implants you get, the health of your bones, and individual healing time. The crown (the false tooth on top of the implant) is only placed after healing is complete.
Even after getting implants, it's extremely important to continue seeing your dentist regularly afterwards; the routine examinations are vital in making sure that the implant and the surrounding area are remaining healthy.
Dental implants can be an excellent way to recover from a damaged or missing tooth, but they may not be right for everybody. Speak with your dentist, and make sure you thoroughly discuss your personal health and what the procedure will consist of. Make sure you have all the facts before choosing a treatment to recover your smile.
About the Practice
At Lake Oconee Dentistry, a team of 5 dentists provide patients with excellent oral care in a comfortable environment. They offer many restorative dentistry options for tooth replacements, including implants, bridges, and full and partial dentures. To ask about dental implants, visit their website or call (706) 453-1333.