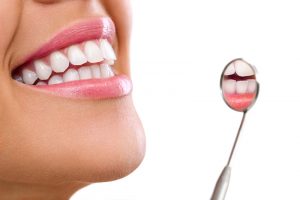 It's just about time to welcome a new year, and as your dentist in Greensboro, we've got a resolution of our own. We want to make sure our patients to love their smiles in 2018 — and that begins with you. Whether it's the way your smile looks or functions, if you are not 100% satisfied with your teeth, this is the year to do something about it. Keep reading to find out more about our suggestions for better oral health in 2018, and how we can help you achieve the smile you love at long last!
#1: Consider Health
There's a reason dentists encourage preventive dental care every six months. It's not because we love seeing you twice a year — but of course we do. Rather, these routine checkups and cleanings are important because they help you steer clear of cavities, gum disease, and other oral health hazards. These issues take away from your healthy smile, but they also impact your overall well-being in a significant way. People who have gum disease are at a much higher risk of having diabetes, heart problems, and a number of other health issues. And tooth loss affects everything from what you eat to how you speak.
To prevent these significant problems of poor oral health, make sure to schedule and attend two preventive visits with your dentist in 2018.
#2: Evaluate Your Hygiene Habits
Of course, your oral health is also greatly determined by what you do to take care of it on a daily basis. If you are not brushing for two minutes, twice a day, and flossing once a day, it's time to renew your commitment to oral hygiene. Performed regularly, these habits remove plaque and prevent tartar buildup to reduce your risk of developing cavities and gum disease.
January is also a great time to check in on your toothbrush. When was the last time you replaced it? If it's been more than 4 months or if the bristles are starting to look worn down, it's a good idea to pick up a new one.
#3: Consider Cosmetic Dentistry
After you have achieved full smile health, your dentist can help you love the way your smile looks with services in cosmetic dentistry. With porcelain veneers, teeth whitening, and tooth-colored fillings (aka dental bonding), the teeth that show when you smile can be totally transformed. Our office even offers Botox treatments to help make sure the skin around your smile looks youthful and refreshed, too.
Make 2018 Your Smile's Best Year!
If you are interested in making an improvement that will last this year, we encourage you to prioritize your oral health. Changes you make to how you care for your smile will last for years — and your overall well-being just may improve, too. Don't wait to schedule an appointment for January 2018!
Meet the Practice
The team at Lake Oconee Dentistry PC is pleased to offer the highest quality comprehensive dental care for patients of all ages. To learn more about their services or to discuss how you can start valuing your oral health in 2018, we invite you to contact the office at 706-453-1333.