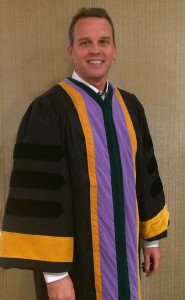 Dr. David Bradley of Lake Oconee Dentistry was inducted as a Fellow of the International College of Dentists (ICD) at the organization's 86th Annual Convocation in Washington, D.C. on November 6, 2015.The ICD awards its prestigious fellowships by invitation only to dentists who have made significant contributions to their profession in the areas of leadership, integrity, education and service, and who have undergone a thorough peer review process. Dr. Bradley's fellowship in the ICD is a career achievement that spotlights his passion for service to the patients in his care, as well as his peers in the industry.
"Only four percent of American dentists are offered fellowship in the ICD, so it is truly an honor to be recognized as part of this elite group," says Dr. Bradley.
Dr. Bradley received his undergraduate training from the University of Kentucky.  He received his Doctor of Dental Medicine (D.M.D.) degree from the University of Louisville School of Dentistry in 1995.  Since then, he has completed over 1,300 hours of post-graduate education, including coursework in short-term orthodontics, TMJ (jaw-joint) disorders, conscious sedation, dental implants, advanced restorative and cosmetic techniques, and sleep apnea.
Established in 1928, the International College of Dentists (ICD) is the oldest and largest international honorary dental organization.  The college has representative chapters in more than 120 countries, and over 11,000 members, including about 6,500 in the United States.