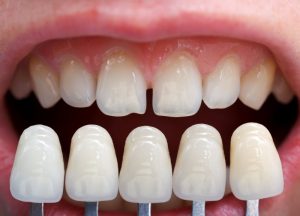 When you brush your teeth, are you worried that you'll never be able to hide the stubborn intrinsic stains you've gathered over the years? Did you suffer a minor dental injury after an accident that permanently changed the appearance of your smile? Do you wish your teeth didn't have so many gaps, but don't want to seek orthodontic treatment?
If these thoughts have ever crossed your mind, you'll want to read this post from your cosmetic dentist in Greensboro. They can use porcelain veneers to solve many cosmetic issues in your smile!
What are Porcelain Veneers?
Porcelain veneers are wafer-thin sheaths specifically designed to bond to the surface of your teeth, giving them a naturally beautiful appearance. Since they're made of durable porcelain, they can withstand the consistent chewing that comes with eating your favorite foods. Porcelain is also naturally stain-resistant, so you won't have to worry about future surface stains as much compared to tooth enamel.
Keep in mind that porcelain veneers are versatile and durable but won't last forever. If you practice regular oral care at home, you can expect to get between 10 and 15 years of use out of them before needing replacement.
How Can They Improve My Smile?
With veneers from your cosmetic dentist in Greensboro, you can solve many issues in your smile. They include:
Dental stains that don't respond to teeth whitening
Minor gaps
Small dental cracks or chips
Overly crooked or misaligned teeth
Keep in mind that porcelain veneers are ideal for solving multiple issues at once, which can save you money on teeth whitening treatments. If you do decide to get porcelain veneers, make sure you don't spend money unnecessarily on teeth whitening afterwards. Porcelain does not respond to teeth whitening and will not make your veneers whiter.
If you have a big event coming up where you know many pictures will be taken, porcelain veneers are ideal because they can be placed in a very short period of time. In just two visits, you can have the smile you've always dreamed up and keep it for many years to come.
What is the Process Like?
The first step of obtaining your veneers involves having a consultation with the dentist and their dental team. There, you can discuss your personal smile goals and determine your color, size, and shape preferences. This way, your veneers will look natural next to your remaining teeth. Note that veneers are only intended on the teeth visible in your smile. For less visible teeth, you may want to consider dental bonding or crowns.
Next, they'll buff down a small amount of your tooth enamel, so the veneers have room for placement. After taking measurements, your dentist will send the data to a dental lab which creates your veneers. While your permanent veneers are being made, you'll wear temporary veneers, so you can get used to your new smile. At your second appointment, you'll have your permanent veneers bonded and ready for daily use.
Don't hesitate to change your smile with porcelain veneers. Schedule an appointment with your dentist in Greensboro today!
About the Author
Dr. David Bradley earned his Doctor of Dental Medicine degree from the University of Louisville School of Dentistry and is a member of the ADA, the American Academy of Cosmetic Dentistry, and many other dental organizations. To learn more about treatment for porcelain veneers or his practice, contact him at (706) 453-1333 or visit his website.