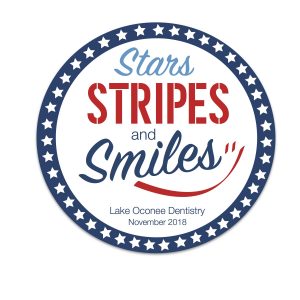 Lake Oconee Dentistry will once again be hosting Stars, Stripes and Smiles, a free day of dentistry solely for our servicemen and servicewomen, on Friday, November 16th.
Drs. David and Patti Bradley, Dr. Shelly Pound, Dr. Andrea Feldman and Dr. Jamie Austin, as well as Lake Oconee Dentistry hygienists, dental assistants and other team members, will provide veterans with their choice of a free extraction, filling or cleaning that day.  Dr. David Miller, an oral surgeon and owner of Lake Oconee Oral Surgery and Dental Implant Center, will also be donating his time, along with his team, in order to help as many people as possible.
Of the 21 million veterans in the United States, fewer than 10 million are enrolled for US Department of Veterans Affairs (VA) health benefits, and more than 1.2 million lack health insurance altogether. This gap is even more pronounced when it comes to dental care because the VA only provides dental benefits to veterans classified as disabled or as a prisoner of war — or as veterans who have a service-connected dental condition.
"Oftentimes those who have served our country are, unfortunately, among the most under-served when it comes to healthcare," says Dr. David Bradley. "Stars, Stripes and Smiles is our way of honoring the military veterans who have given so much to ensure our freedom and make this country what it is today."
This is the second year Lake Oconee Dentistry is hosting this event. Last year, the event provided care to 85 area veterans and active military personnel.
If you are a veteran and are interested in receiving free dental treatment on November 16th, please call the office at 706-453-1333 for an appointment time. You do not have to be a patient of Lake Oconee Dentistry to receive treatment that day. Lake Oconee Dentistry is located off Highway 44 in Greensboro, between the Publix parking lot and the movie theater.