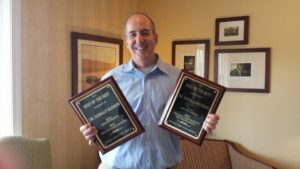 We recently added a new team member to the practice – Dr. Don Hudson! In case you haven't had the chance to meet him – or haven't noticed him under all that personal protection equipment – we wanted to take a moment to make a formal introduction.
Here's some background on our newest doctor…
Originally from Kansas City, Missouri, Dr. Don moved around quite a bit as a child. His early travels landed him in Louisville, Kentucky. In a strangely coincidental turn of events, Dr. Don attended Liberty Elementary School at the same time Dr. David was there. Dr. Don is a year older, so the two never crossed paths, despite living in neighborhoods located across the street from each other!
From Louisville, Dr. Don's family moved to Birmingham, Alabama and then finally settled in LaGrange, Georgia. After graduating from LaGrange High School, Dr. Don went on to earn a bachelor's degree in economics from the University of Georgia. But a few years after graduation, he began to re-evaluate his career path. A talented artist and musician, he wanted to pursue a career that combined his passion for both science and art.
The Move to Dentistry
One particular experience turned Dr. Don's eye toward dentistry: He had inadvertently missed a few dental cleanings in the years following college graduation. When he finally had his teeth cleaned, he was amazed at the difference a bright smile made in his life.  He was more confident and relaxed. He smiled more. For Dr. Don, having a beautiful smile was literally a transformative experience – and he wanted to be able to give that gift of transformation to others.
Dr. Don attended dental school at the Medical College of Georgia in Augusta (now known as Augusta University) on an Air Force ROTC Scholarship. Following graduation, he served as a dentist for U.S. airmen at RAF Lakenheath in England.
Returning Stateside
After returning to the states, he purchased a dental practice in the small town of Keene, New Hampshire. He served on the Board of Trustees for the New Hampshire Dental Society, as well as the board's Council of Ethics. His practice was named the Best Dental Practice in Keene three years in a row — 2015, 2016 and 2017. In 2018, after 13 years of private practice, Dr. Don sold his practice and moved back to Georgia to be closer to family.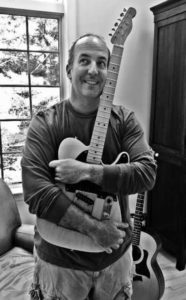 When he's not working, you can often find Dr. Don pursuing his artistic passions, be it charcoal sketching or playing the guitar. He is an avid guitarist – having taught himself how to play at the age of 14. A lifelong sports enthusiast, he enjoys spending time outdoors – golfing, boating and fishing – and is looking forward to spending time on the lake.
Says Dr. Don: "It's great to be back with a group of dental professionals focused on delivering quality care. Everyone at Lake Oconee Dentistry is really good at what they do, and I share a similar philosophy when it comes to always putting the patient first."
We are thrilled to welcome Dr. Don to our team. Be sure to say hello and introduce yourself the next time you're in the office.