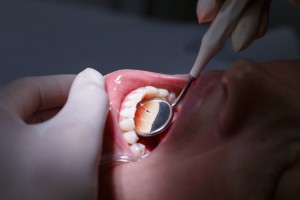 Gum disease in Greensboro doesn't just affect patients that have bad oral hygiene. It is easy to get gum disease no matter what age or habits you have. Many factors may play into it, even your genetic makeup. Even after practicing good oral hygiene at home patients visit their dentist, expecting a clean bill of health to find out they have gum disease.
Although teeth are meant to last a lifetime, many people lose them due to periodontal disease (advanced gum disease). For some patients, it's because they don't realize they could have been taking action to prevent losing their teeth by visiting their dentist for assistance when they first notice signs of unhealthy gums. If our office discovers that you have gum disease, we also have a revitalizing periodontal therapy option for patients wishing to get their oral health back on track.
Signs of Gum Disease
Your gums and jawbone are the supporting structures for your smile. These two important aspects of your mouth keep your smile functional, keeping your teeth strong enough to stay beautiful, help you speak, and chew. Gum disease is a serious—but very common—condition that compromises your oral health. It's important to recognize the early signs of your gum's decline in health so we can assist you in replenishing them.
Red, swollen gums
Tender gums
Bleeding when brushing or flossing
Buildup of pus between gums
Loose fitting teeth
Receding gums
Pockets of infection along your gum line
Chronic bad breath
Periodontal Therapy
With enough neglect, your gums could eventually become infected with gum disease. When this happens, your gums will start to recede and form small pockets. Plaque then gets trapped within these pockets and cannot be removed with regular brushing. Our dental experts will need to step in at this point. Without visiting our dental office, you will be on the fast track to jaw bone deterioration and tooth loss.
Luckily, our office offers periodontal therapy in Greensboro to correct settled gum disease. Your dentist will complete two complimentary procedures: scaling and root planing.
Scaling
Dental scaling is the most common nonsurgical way to treat gum disease or its advanced form, periodontal disease. Basically, your dentist will use a dental instrument to manually remove the plaque from the teeth and beneath your pocketed gum line. Sometimes, if your gums are extremely infected, he will also remove the infected tissue.
Root Planing
This step makes it easier for your healthy gums to grow back and reattach to your teeth by smoothing the surfaces of your tooth roots. Root planing also prevents further infection down the road.
Get the Dental Care You Need Painlessly
Periodontal therapy doesn't sound like the most pleasant procedure, but we promise, our office isn't filled with evil dentists! At Lake Oconee Dentistry, we want you to feel comfortable. Living with infected gums is already painful. The last thing we want to do is cause any more pain for our patients seeking help.
If you're interested in getting your oral health back on track, but you're nervous, ask our dental team about the sedation services we offer. Our dental team makes it possible for everyone to receive the attention they need comfortably.