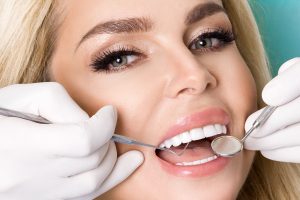 Porcelain veneers are practically magic. These thin little tooth covers can transform a person's smile in just a couple of visits to the dentist. However, you might wonder if you are a good candidate for veneers. Generally, anyone who has good oral health and who is committed to maintaining their new smile can get porcelain veneers without a problem. It's important to consider, though, that if your teeth are crooked, that could affect the way your new look turns out. What factors come into play when it comes to determining if your crooked pearly whites could support veneers?
Sometimes, Teeth Are Too Crooked
There's no doubt that crooked teeth aren't exactly attractive, but the problem doesn't end there. They can pose a threat to your oral health. When teeth are severely misaligned, it is difficult to clean between them, which increases the chances that you'll suffer from cavities. They might also push against each other and be more likely to break or chip if you accidentally bite down too hard on something.
If your teeth are so crooked that they present risks to your well-being, it isn't a good idea for you to get porcelain veneers; they would just be covering a problem instead of correcting it. Plus, extremely crooked teeth might make the veneers look strange and out of place in your mouth.
You might need to talk to your dentist about an orthodontic treatment that can reposition your teeth into their proper places. Once you've gotten your chompers where they belong, you can consider getting porcelain veneers to finish perfecting your smile.
Minor Misalignment? Probably Not a Big Deal
If your teeth are only slightly crooked, and if there are no problems with your bite, it's very possible that you can get porcelain veneers. These little covers will reshape your teeth and make them look like they're perfectly straight — no braces required!
Remember, though, that your dentist is the best person to determine if porcelain veneers will work well for you. They may recommend that you get your teeth straightened before you undergo any cosmetic treatment in order to get the best results possible from your made-over smile.
Other Ways to Straighten Teeth
Porcelain veneers are one of the best ways to straighten teeth without braces because they provide multiple cosmetic benefits, and they're durable. Instead of veneers, though, some people choose dental bonding to correct minor misalignment. It can look great and it costs less than veneers, but it isn't as long-lasting.
You could also talk to your dentist about Invisalign or SmartMoves clear braces, which let you get a straighter smile without having to deal with the metal brackets and wires that come with traditional braces.
Crooked teeth? You may or may not be a candidate for porcelain veneers. The best way to find out is to have a chat with your local dentist.
About Lake Oconee Dentistry
The team of doctors at Lake Oconee Dentistry provides a host of dental services that aim to give people gorgeous, healthy smiles. If you're curious about porcelain veneers or any other cosmetic treatment, please contact us at 706-453-1333.