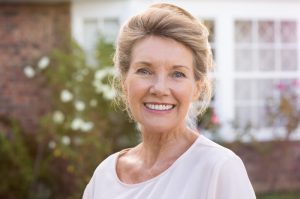 If you have missing teeth, you may be familiar with the self-consciousness that spaces in your smile can cause, but did you know that these gaps can lead to serious oral health issues? Thankfully, your dentist in Greensboro has a variety of tooth replacement solutions to restore your smile. Keep reading to discover what your best options are for tooth replacement as well as what happens if you do nothing.
Why is Replacing Missing Teeth Important?
Besides the aesthetic disadvantages that missing teeth present, they can also affect your oral health. Even missing just one tooth can shift your smile out of alignment. Your teeth use each other as support, so when even just one tooth is lost, it creates the potential for your remaining teeth to shift or drift into the open gap. This will result in more extensive and expensive orthodontic treatment to realign your grin.
Resulting from the misalignment, missing teeth can cause excess wear and tear in certain parts of your smile. This can also lead to bite issues because your teeth aren't coming together the way that they should.
Last but not least, missing teeth can lead to bone loss. Your jawbone needs stimulation from your tooth roots to stay healthy, so when you lose teeth, your jaw can shrink and deteriorate because it isn't receiving the same amount of stimulation.
What Are My Replacement Options?
Here are some of the most popular and common tooth replacement solutions that restorative dentistry has to offer:
Dental Implants
Dental implants are small titanium posts that are surgically placed in your jawbone. Titanium is biocompatible, so it integrates into your bone to create a sturdy support for a dental crown, bridge, or denture. Dental implants themselves can last a lifetime, and they also are the only replacement option that preserves and strengthens your jawbone.
Dental Bridges
Dental bridges literally "bridge" the gap in your smile. They are designed to restore multiple teeth in the same arch, and they use dental crowns as anchors to fit over your natural teeth. This is a great way to replace multiple teeth in a row.
Full or Partial Dentures
Full or partial dentures are prosthetics that can replace part or a whole row of teeth. Your false teeth are attached to a gum colored base, which rests on top of your gums to restore the look and function back to your smile.
The only way to know which replacement option is best for you is to contact your dentist. They will be able to carefully evaluate the condition of your mouth, and then make an expert recommendation. If you're missing teeth, waiting will only lead to more problems! Talk to your dentist to get started on a beautifully complete grin.
About the Practice
At Lake Oconee Dentistry, we have a team of 5 highly-trained dentists who are dedicated to providing the best care possible. They like to offer a variety of replacement options to give you the solution that works best for your smile. For any questions, they can be contacted through their website or by phone at (706) 453-1333.