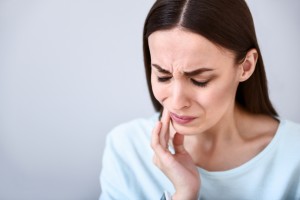 It's sweltering outside, as a normal summer day in Georgia is expected to be. An ice cold, natural lemonade slushie sounds heavenly right about now, but you pass. Unfortunately, every time you try to enjoy food or drinks that are exceptionally cold or hot, your tooth shoots a sharp pain down the side of your cheek. You don't have to struggle and be so selective with your diet because of your sensitive tooth in Greensboro. At Lake Oconee Dentistry, the last thing we want is for our valued new and returning patients to sit in pain when we have the services and procedures to help restore full functionality of your smile.
What is tooth sensitivity?
Tooth sensitivity occurs when the enamel that protects your teeth gets thinner or your gums start receding and exposing the underlying surface of your tooth. The insides of your teeth including the tooth root and sensitive nerves are supposed to be protected by a thick layer of enamel and healthy gums. Overtime, we all naturally wear down enamel, but we can preserve it with healthy dental hygiene and a healthy diet.
Avoiding acidic foods and drinks like sodas, high-sugar carbs, and sticky candy can help save your enamel. Also, brushing your teeth softly, working to massage rather than scrub your teeth is more effective and saves enamel. One more way to preserve the strength of your teeth is to avoid bleaching them often. The old saying is that "beauty is pain," but luckily the sensitivity from bleaching (at-home or in-practice) is temporary. Speak with either of our doctors about how each treatment may affect you before trying it.
How can my dentist in Greensboro prevent sensitivity?
Brushing and flossing regularly in conjunction with a healthy, balanced diet can help you to avoid sensitive teeth. But, another key part to saving the enamel on your teeth is by following up with your dentist every six months for a professional cleaning and checkup. Your dentist will have the opportunity to check on your oral health overall and remove any dangerous bacteria that could cause tooth decay. Our office provides great preventive services that can keep the layers of your teeth and gums strong for years to come! You can expect these services when you visit our Greensboro office:
An in-depth evaluation of your oral health.
An assessment of your current risk of tooth decay/gum disease
An inspection of your bite
A comprehensive look internally and externally with digital x-rays
A thorough discussion of the appointment and any recommendations for restorative treatments
We provide plenty of education on proper home care, the appropriate things you should be eating, and any habits to avoid. We will formulate the ideal treatment plan that addresses your needs and your expectations! Contact our friendly team at Lake Oconee Dentistry to schedule your appointment today!