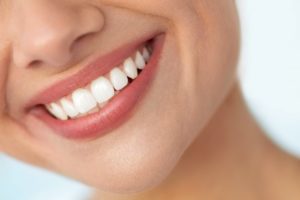 Studies have shown that a person's smile is one of the first things you will notice when you meet them. Have you ever wondered why you find some smiles attractive, and others not so much? You're about to find out! Keep reading to learn what characteristics make a smile beautiful and all of the ways your dentist can help you improve yours.
Traits of a Beautiful Smile
Without you even saying a single word, your smile can speak volumes about you, all the way from your personality to your level of intelligence. Here are several of the primary characteristics of a smile that make it attractive:
Teeth Color
This one might be the most obvious, and teeth whitening happens to be one of the most popular cosmetic dental treatments. Stains or yellowing of the teeth can take away from the beauty of your smile. Fortunately, your dentist has professional in-office whitening treatments that can make your teeth up to 8 shades brighter in a single visit!
Gums
Your smile isn't all about your teeth. Fifty percent of adults living in the United States suffer from gum disease, which can cause swelling, redness, and excess bleeding of the gums. Obviously, these are not attractive traits in a smile, and for other health reasons such as stroke or heart disease, it's important to see your dentist as soon as possible if you think you may be at risk for gum disease.
Incisal Edge
You may have noticed that your two front teeth happen to be the longest ones in your upper row of teeth. In order for a smile to look attractive, these teeth should be symmetrical and the lengths of the adjacent teeth should create an upward curve when you smile. If your teeth are not symmetrical or the lengths are different, it can make it seem as though something is a bit "off." Never fear, though! Your dentist can use porcelain veneers to mask flaws such as these so that you can feel confident showing off your pearly whites.
Tooth-Colored Dental Restorations
If you had a cavity filled or a crown placed on one of your teeth years ago, your dentist may have used silver-colored material called amalgam. While it is effective, it's not the most attractive look for your smile. Thanks to advancements in dental technology, your dentist can now replace those old restorations with new tooth-colored fillings or crowns made from a composite resin. No longer will you have to feel self-conscious about dark spots on your teeth!
Now is the time to transform your smile. Talk to your cosmetic dentist about your goals and let them help you find the best treatment for you!
About the Author
If you're going to invest in cosmetic dentistry, then you want to make sure you're receiving the highest quality of treatment, and you won't find better care outside of the team of experts at Lake Oconee dentistry. They are proud and happy to treat patients of all ages, and they strive to keep hours that are convenient for you. Their combined years of experience and education give them the ability to provide superior service. To request an appointment, visit us online or call us at (706) 453-1333.