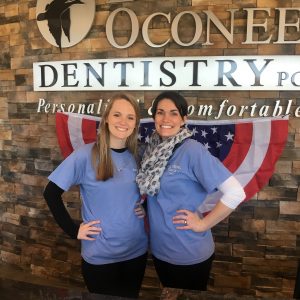 Lake Oconee Dentistry hosted its second Stars, Stripes & Smiles event last Friday, November 16th, providing a free day of dental care to 89 area veterans and active military personnel.
Drs. David and Patti Bradley, Dr. Shelly Pound, Dr. Andrea Feldman, and Dr. Jamie Austin, along with Lake Oconee Dentistry hygienists, dental assistants and team members provided servicemen and servicewomen with a choice of a free cleaning, filling or extraction. Dr. David Miller, an oral surgeon and owner of Lake Oconee Oral Surgery and Dental Implant Center, also donated his time, along with his team, in order to help as many people as possible.
The doctors, in cooperation with a team of dental professionals and volunteers, provided 22 extractions, 23 fillings and 52 cleanings, totaling over $15,000 in free care. Lake Oconee Dentistry and Lake Oconee Oral Surgery have been partnering together for several years to provide dentistry for those in need. In total, the practices have donated over $250,000 in free dentistry to the lake area community through various events.
"The majority of veterans do not receive dental benefits through the VA. This event was a way we could thank these men and women for their service, while helping ensure they receive the dental care they need," said Dr. David Bradley. "It was an honor to serve those who have served our country.  These men and women are truly some of our country's bravest heroes."