By Dr. Jamie Austin
Ever think it's strange when your dentist asks you to stick your tongue out during your dental exam? While it might sound like an odd request, this is one technique dentists use to screen for oral cancer. April is Oral Cancer Awareness month, and there is no better time to discuss the significance of this disease and learn how you can minimize your risk.
Oral Cancer on the Rise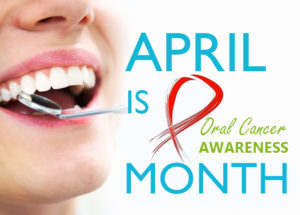 It is estimated that 53,000 Americans will be diagnosed with oral cancer this year, and 450,000 new cases are diagnosed each year worldwide. Once diagnosed, the five-year survival rate is 57%, which means 43% of those diagnosed will not survive beyond five years. Survivors typically undergo extensive surgery and reconstruction.
Oral cancer can affect the tissues inside the mouth including the tongue, floor of mouth beneath the tongue, lips, inner lining of the lips, the lining of the cheeks, and roof of the mouth. Oropharyngeal cancer typically occurs in the tissues of the throat just behind the mouth, including the tonsils, the base of the tongue, and the soft palate. The most common locations for oral cancer to develop are on the sides of the tongue and the floor of the mouth.
Risk Factors
When it comes to risk factors, tobacco and alcohol use top the list. No amount of tobacco or vaping is safe — that includes smokeless (chewing) tobacco, pipe smoking, cigars, cigarettes, and vaping products. The use of chewing tobacco, in particular, can modify the cells lining your mouth into cancerous cells. In fact, according to the American Association of Oral and Maxillofacial Surgeons, smokeless tobacco users are 400% more likely to develop oral cancer. When you add alcohol to this equation, the risk only rises. Eighty percent of throat and mouth cancer in men and 65% of throat and mouth cancer in women are linked to the combination of smoking and drinking.
In recent years, there has been an increase in oral cancer rates caused by HPV16, a sexually transmitted disease that also causes cervical cancer in women. According to the Center for Disease Control and Prevention, HPV16 causes 70% of oropharyngeal cancers. Other oral cancer risk factors are gender and age. Men over the age of 40 are twice as likely as women to be affected with oral cancer. It is worth noting, however, that we are seeing a rise in the number of people under 40 years old now being affected.
The symptoms of oral cancer can vary, but anyone experiencing any of the following for more than two weeks should see a dentist:
Red and/or white patches inside the mouth
A sore that does not heal
Lumps, rough patches, thickening of tissues or erosions inside the mouth
A mass or lump in the neck
Difficulty speaking, swallowing, chewing, or moving your jaw or tongue
Chronic sore throat or hoarseness
While you cannot prevent all oral and oropharyngeal cancers, there are things you can do to decrease your risk. Above all else, quit smoking, vaping and dipping. Limit alcohol intake (or avoid it altogether). Avoid infection with HPV16. When you are out in the sun or on the lake, wear lip balm with a sun protection factor (SPF) of at least 30 and wear a wide-brimmed hat to protect your lips. Complete a self-exam and note any changes to your soft tissues or new growths.
Oral cancer can be treated if detected early. For this reason, be sure you receive an oral cancer screening at your regular six-month dental appointments, even if you wear complete dentures or partial dentures.